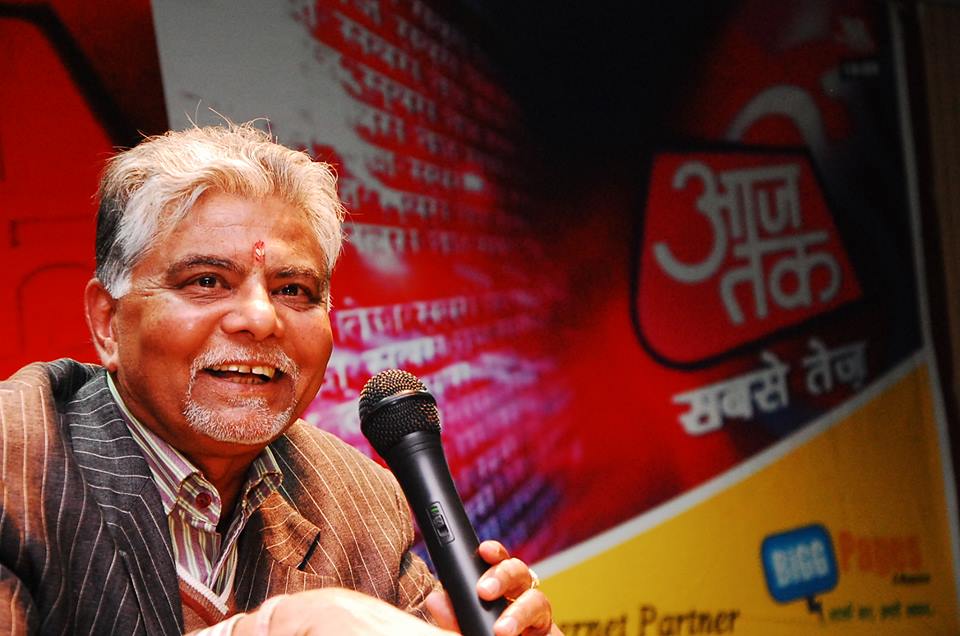 वरिष्ठ पत्रकार और इंडिया टीवी के एडिटोरियल डायरेक्टर 'कमर वहीद नकवी' ने अपने पद से इस्तीफा दे दिया है. उन्होंने कल रात ही मेल कर मैनेजमेंट को अपना इस्तीफा सौंपा जिसे स्वीकार कर लिया गया. 'मीडिया खबर डॉट कॉम' के साथ बातचीत में कमर वहीद नकवी ने अपने इस्तीफे की खबर की पुष्टि कर दी. उन्होंने अपना इस्तीफा नरेंद्र मोदी के इंडिया टीवी पर चले फिक्स इंटरव्यू के विरोध में दिया. गौरतलब है कि रजत शर्मा के लोकप्रिय कार्यक्रम 'आप की अदालत' में इस हफ्ते नरेंद्र मोदी का इंटरव्यू प्रसारित किया गया था.इस इंटरव्यू को लेकर सोशल में काफी हलचल है और पक्ष व प्रतिपक्ष में तरह-तरह के तर्क दिए जा रहे हैं. कमर वहीद नकवी इसके पहले आजतक के न्यूज़ डायरेक्टर थे और वहां लंबे समय तक काम किया.
कमर वहीद नकवी के इस्तीफे पर आयी कुछ प्रतिक्रियाएं :
संजय तिवारी
कुछ पत्रकारों की रीढ़ आपातकाल में भी सलामत थी. कुछ की इस मोदीकाल में भी सलामत है. सुन रहा हूं इंडिया टीवी के न्यूज डायरेक्टर कमर वहीद नकवी ने मोदियापे के विरोध में इस्तीफा दे दिया है.
नरेन्द्र मोदी वाली 'आप की अदालत' पर वहीद नक़वी का इंडिया टीवी के समाचार निदेशक पद से इस्तीफा पत्रकारिता के उच्चतम मानकों के अनुरूप है। बधाई।
Yusuf Ansari
India TV से क़मर वहीद नक़वी साहब का इस्तीफ़ा अंधेरे में रोशनी की नई किरण है। उन्होंने साबित किया है "न ज़ुबां किसी ने ख़रीदी है न क़लम किसी का ग़ुलाम है।" "आप की अदालत" में मोदी की "इबादत" देखने के बाद इस ख़बर का इंतेज़ार था। नक़वी साहब, हमें आप पर नाज़ है कि आपने "चाटुकारिता" के इस दौर में "पत्रकारिता" की लाज रख ली। आपकी हिम्मत और जज़्बे को सलाम।।
Zain Awan
It is better to die standing, than to live on your knees. Qamar Waheed Naqvi proved it. Long live journalism!
Aflatoon Afloo
"नरेंद्र मोदी के इंटरव्यू के विरोध में कमर वहीद नकवी जी ने तो इस्तीफा दे दिया. लेकिन आज तक पर क्रांतिकारी पत्रकार पुण्य प्रसून वाजपेयी ने क्रांतिकारी केजरीवाल का जो फिक्स्ड इंटरव्यू लिया था उसके लिए कोई इस्तीफा देगा? या फिर राहुल गांधी का जावेद अंसारी ने जो फिक्स्ड इंटरव्यू लिया है उसके लिए भी कोई इस्तीफा देगा? या कहीं ऐसा तो नहीं कि वह दोनों सेक्युलर, जनवादी और प्रगतिशील इंटरव्यू थे और उनके इंटरव्यू को चला कर टीवी टुडे अचानक सेक्युलर हो गया है."